I created several pages using random kits that I have saved. They were done for challenges posted at different sites.

This page is one of my favorites from the weekend. It is a lift of someone elses page. I used a freebie I had picked up at K-joi studios back in March. It is so perfect for this photo of my hubbys nephew.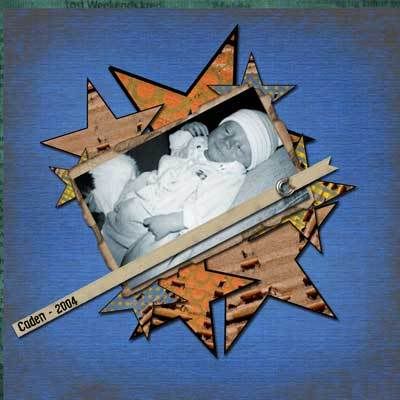 This page was created with a sketch from Di Hickman. She shared it for National Scrabook day. I used a kit from Janneke Smit that is for sale in the store at Scrapstreet.com



This is another page I created last month with the kit I got from k-joi studios, but I never posted it. The photo is from when my dad helped us move out here to california. The sketch is from stuck sketches blog I believe.



This is a page for the memorial album of my hubbys stepfather. It is one of the photos I took at the graveside. Because he was a retired AF captain, he was given a military burial. It was beautiful. It was the only time we saw it snow the whole time we were home on leave too. The page is made with a conglomeration of kits. The emblem is an image I pulled off the internet and cropped to fit on the page.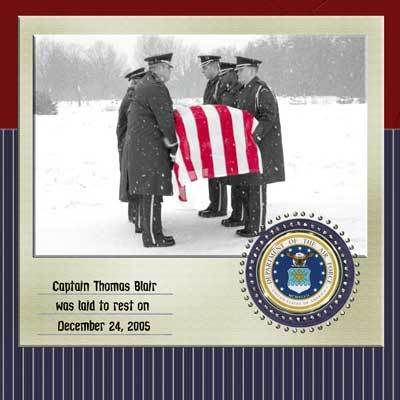 This is a page for the wedding album I am creating for our friends Jeff and Joline.
The kit was a freebie from Shabbyprincess.com.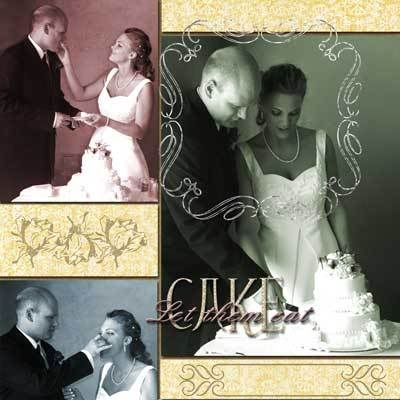 This page of Katie was just a fun one that I completed with a free kit from handmaiden designs at Scrapstreet for NSD.



Last page!
This is a photo from Lauras birthday party. The page is from the Collaboration kit at k-joi studios.