With 2 out of 3 kiddos.

Dan and our oldest went to Grand Slam in Burbank yesterday. They had a great time. Katie got to meet several cast members from Smallville (her favorite show). She has been for 3 years or so now. Supergirl was there along with Lois Lane, Jimmy Olsen, Brainiac and Martian Man Hunter. (I don't know the real names of the actors. lol) She said that her fave 2 to meet were Lois and Brainiac. They were "the nicest ones". Daddy even let her get autographs and everything.

And he remembered this time to take my scrapbook and get Herb to autograph the page I did with the photo Laura took of him at Comic Con in 2006. And he got me a pic of Herb holding the page!! The autograph reads "Me at my best" lol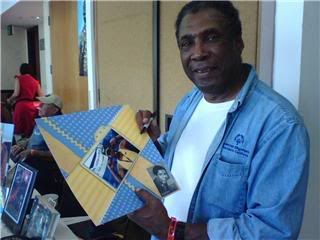 They came home first thing this morning, but not before I had practically cleaned the entire house for company. Always the way isn't it? Oh well.