I am terrible at keeping up with listing my diet and my exercise. I am watching what I eat (as it goes from my plate to my mouth) and I am exercising. I am just not taking the time to write it down here. lol

I have done my walking every day except for weekends and I am not eating too terribly. My newfound love is a concoction that came outta desperation. I was CRAVING something sweet the other night, but I didn't have anything that really appealed to me close at hand. As I searched the cupboard for the 5th or 6th time in an hour I spied a can of pumpkin and a can of evaporated milk. Pumpkin custard, yum!!! But I wasn't in the mood to wait for it to cook. I have always loved the taste of pumpkin filling before it cooks, though. So can ya see where I am going with this? lol I mixed up pumpkin pie filling, using splenda instead of sugar, and mixed 1 cup of milk with about 1/2 a cup of the filling. YUMMMM!! Might even be better than egg nog!! If I hadn't mixed it with the milk it is just a little bit runnier than pudding and my hubby likes it. lol We killed the mixture in 1 evening between the 5 of us!! And I went to the store, bought 3 more cans of pumpkin and 3 of fat free evaporated milk and we have had it every day since!! Whatever works to stop the sweet craving right?

Other than that, I have been doing 2 hard boiled eggs for breakfast every morning. Lunch is almost always a 1/2 cup of thin spagetti (whole wheat) with 1 cup of cali blend veggies, butter and parmesan.

After discussing it with hubby, though, I have decided to enlist Weight Watchers for help. I have a friend in the group so I know I will have the added support there too. Just waiting for payday to go and sign up. That means tomarrow!

In other news, my poor Laura had to go to the dentist yesterday and have a tooth pulled. It had come in crooked and was destroying the tooth in front of it. She was so brave and only wimpered a little through it all. What was supposed to be an extraction, though, turned into a surgical procedure and he had to split the tooth into 4 pieces to get it out. He told her that maybe she could trick the tooth fairy with all the "teeth" she had lost.

I took her out for a chocolate shake afterwards, but she couldn't suck on a straw because the socket has to form a clot. So she happily ate it with a spoon. We also spent much of the evening laughing with her at her crooked smile and kisses that resulted from her numbness. Here are my favorite photos.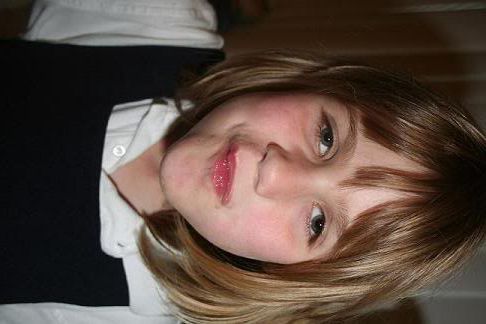 As for the tooth fairy. What can I say. I felt guilty that she had to go through all that pain with losing a tooth. She ended up with $5 from the tooth fairy this morning. $4 in bills and then 4 quarters. lol The last tooth she lost, she got a dollar in the bowl where we keep her tooth and a quarter under her pillow. lol She was VERY impressed.