Sine I am so bad about posting on here, there is loads of exciting news for me to share! June was an especially good month here. With the photos I had taken of our friends wedding in 2006, I had scrapbooked a few pages that I absolutely fell in love with. Eventually I want to scrap all of the photos I took, but that is going to take a while at the rate I am going. I have only done 5 pages in a year. That is the besides the point, though. So far 3 of the 5 pages for their album have been picked up for publication. The first one made the cover of Scrap Streets Monthly electronic zine. Here is the e-zine coverwith the first layout.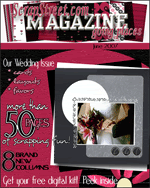 The next 2 pages are part of a double page layout and will be released in August by http://www.memorymaniac.com/
The last 2 pages were submitted for publication to Scrapbook Trends but I won't hear back until after August 15th if they want them for publication.
I also had a second 2 page spread chosen for the memorymaniac publication. It is a page of Laura playing soccer last year.
I am really looking forward to gettin a copy of the book in my hands!